More great news for disk based audiophiles, this time from reference Recordings. They will be releasing what they call HRx discs that contain 24 bit / 176.4 KHz masters. For now these will be available on data DVD discs only compatible with computer based systems. Eventually RR will make these available for downloading, ditching the physical medium for those who don't want it. It is great to hear a real reference label say that the benefits of disk based playback can provide listeners master tape sound quality. This format will be on display at CES and I will be getting all information available and reporting back. Read more for a snippet from the Stereophile article.
from stereophile.com
Reference Recordings Aims At Your Hard Drive
By Jason Victor Serinus
January 5, 2008 — Reference Recordings, the Bay Area-based audiophile label founded by John T. "Tam" Henderson in 1976, has adopted a unique approach to computer and music server playback. Later this month, the company will begin to market what they call "HRx" discs. Incompatible with conventional optical disc players, these are data discs containing WAV files intended for playback on computer-based music servers. Each HRx is a digit-for-digit copy of an original Reference Recordings 24-bit/176.4kHz digital master. The format is slated for audition during this week's CES. It can be heard in the TAD, FIM, and Magico rooms at the Venetian, as well as in On a Higher Note's Vivid/Luxman suite at the Mirage. Actual HRx discs will be available soon thereafter.
"Like every record company, we have been frustrated knowing how wonderful our master tapes sound and what is lost when you transfer to CD," Reference Recordings Vice President Marcia Martin told Stereophile. "There are also losses when we transfer to LP, although those are different, and stem from mechanical issues you don't have with CDs.
"Now that computers have improved, and we have huge hard drives, lots of memory, fast downloads, and new servers, it has finally become possible and practical to offer the incredible sound we've been hearing all these years on the original masters. It may not be great for preamp manufacturers, but hard drive playback is the future of audio."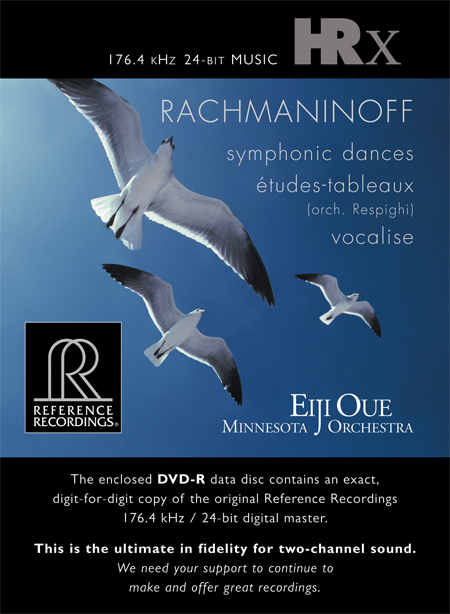 Complete article